Jump to recipe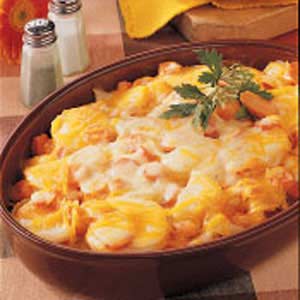 I found the basics for this recipe in the "Food that Schmecks" cookbook written by the late Edna Stabler. This recipe for cheese scalloped potatoes is one of our favourite dishes, both for use at home and for potluck meals!

Notes
GREAT TIP
The cheese sauce also makes great stovetop mac&cheese. I sometimes put crumbled bacon and bits of chopped fried onions in it. Stir the sauce into some cooked macaroni and enjoy.
Wow - does that ever taste great on a cold or rainy day!

Ingredients
About 5 cups pared and thinly sliced potatoes
5 carrots sliced diagonally and about 1/8 inch thick
1 onion, sliced (more if you like it)
Parboil in salted water for five minutes then drain.
Cheese Sauce:
3 T butter
2 T flour
Salt to taste (cheese has quite a bit)
Pepper to taste
Dash of cayenne
1/2 t dry mustard
1/2 t paprika (I like smoked paprika)
1 1/2 c milk, heated
1 1/2 c shredded sharp cheddar cheese
1/2 of a 250 g tub MacLaren's Imperial sharp cheese (nice smooth sharp processed cheese)
Instructions
Use a heavy saucepan.
Melt butter. On medium heat, stir in flour and spices to form a thick paste. SLOWLY add enough heated milk to make a thick sauce. Add milk in small amounts stirring constantly and wait between additions to keep the sauce fairly thick. Rushing just makes the sauce take longer to make properly.
Once the white sauce is made, slowly add 1 1/2 c shredded sharp cheddar cheese and (if you really like cheese as much as we do), add about 1/2 of a 250 g tub MacLaren's Imperial sharp cheese (can get it at Coop)
Assembly:
Butter a casserole
Layer potatoes, onions and carrots in casserole up to half way. Pour half the cheese sauce over potatoes.
Repeat to top. (too full and you'll be cleaning you oven! I would still recommend that you put the casserole on a cookie sheet or something so that any boil-overs would not make it to the floor of your oven.)
Now that you've used up the cheese sauce, sprinkle some extra shredded cheese on top.
Cover with foil or lid and bake at 375°F for 30 minutes or until tender.
Uncover top for last 10 minutes to brown.