Jump to recipe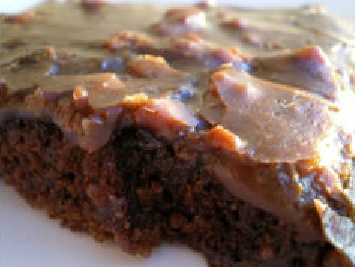 This chocolate cookie sheet cake is known by many names. (Texas chocolate cake comes to mind.) It has a texture similar to that of a brownie, and the buttermilk enhances the taste of  the chocolate.
Ingredients
2 c flour
2 c sugar
1/2 c butter
1 c water
1/2 c oil
4 T cocoa
1/2 c buttermilk * If you don't have buttermilk, just use regular milk mixed with a teaspoon of white vinegar
2 eggs
1 tsp baking soda
1 tsp vanilla
Icing:
1/2 c butter
4 T cocoa
1/3 c buttermilk (6 T)
2 c icing sugar
Instructions
Cake:
Mix flour and sugar.
Melt butter, water, oil and cocoa in separate microsafe bowl (or pot) and bring to a rapid boil. Stir twice during heating.
Pour over flour and sugar mixture and stir till smooth.
Add buttermilk, eggs, baking soda and vanilla. Stir well.
Pour onto a greased large cookiesheet.
Bake at 375°F for 20 minutes.
Icing:
Bring butter, cocoa, buttermilk to a boil. Remove from heat. Add icing sugar slowly, blending carefully.
Add vanilla.
Pour over cake while icing is still hot.