Jump to recipe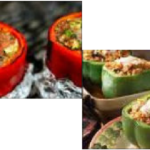 Instead of putting bell peppers into something, this recipe lets you put something into bell peppers. These will dress up your meal when you have company, or make your regular mealtime special.

Serving Size
1/2 bell pepper
Ingredients
1 green bell pepper
1 red bell pepper (for variety)
1/2 oz (15 g) butter
1/2 medium onion, chopped
1 clove garlic, chopped
1 Tbsp (20 ml) dry white wine
1 cup (250 ml) tomato puree
vegetable stock 100g (3 oz)
long grain rice 5ml (1 tsp)
chopped fresh basil 30ml (2 tbsp)
chopped fresh parsley 20g (1oz)
grated Parmesan cheese
Instructions
Melt the butter in a large pan and stir in all the ingredients except the peppers, cheese and the parsley. Bring the mixture to the boil and then let it simmer, covered, for about 20 minutes, giving it an occasional stir. It should thicken up as the rice swells. Take it off the heat, stir in 2/3 of the parsley and let it cool.
While the other ingredients are cooking prepare the peppers by halving them length ways and removing the seeds and the membranes.
Fill the pepper 'boats' with the mixture and then top off with the grated Parmesan. Place them on a greased baking tray and place in a hot oven for 30 minutes. Sprinkle on the remainder of the parsley and serve.