Jump to recipe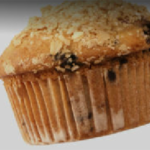 Muffins are a great snack – healthy and delicious. They are easy to make and great additions to any meal or a snack.
Ingredients
1 2/3 cups whole wheat flour
2/3 cup sugar
1 teaspoon baking powder
1/2 teaspoon baking soda
1/2 teaspoon ground cinnamon
1/4 teaspoon salt
1 cup mashed very ripe bananas (2 to 3 medium)
3 egg whites
1/4 cup canola oil
1/4 cup fat-free (skim) milk
1 teaspoon vanilla
1/3 cup miniature semisweet chocolate chips
Topping
1 Tablespoon sugar
1/8 teaspoon cinnamon
Instructions
Heat oven to 375°F. Spray bottoms only of 12 regular-size muffin cups with cooking spray, or line with paper baking cups.
In large bowl, mix flour, 2/3 cup sugar, baking powder, baking soda, 1/2 teaspoon cinnamon and salt.
In medium bowl, beat bananas, egg whites, oil, milk and vanilla with fork until smooth. Stir into flour mixture just until flour is moistened. Gently stir in chocolate chips. Divide batter evenly among muffin cups. (You don't need to use the paper muffin cups if you have a silicone muffin baking tray, but the muffin cups will keep the muffin from drying out.)
In small bowl, mix topping ingredients. Sprinkle evenly over batter in cups.
Bake 20 to 24 minutes or until light golden brown and toothpick inserted in center comes out clean. Immediately remove muffins from pan to cooling rack.