Never

stop learning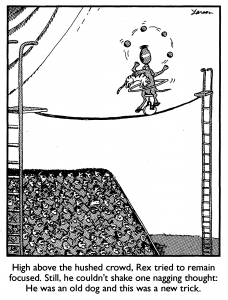 I grew up enjoying looking at Far Side cartoons. Gary Larsen's cartoons were great, This one is especially descriptive of how I feel learning WordPress.
Well… working in WordPress is definitely making this old dog work hard to disprove the adage that you can't teach an old dog a new trick. I'm certainly learning lots with this project. The more I learn, the easier it is becoming to produce things for this website. I'm spending time on getting my recipes on the site, as many of my friends are interested in seeing them.
I hope that you'll be patient with me as I grow our website.