Jump to recipe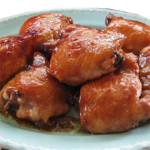 One of my co-workers, Joanne Hénault, brought these wonderful chicken thighs to a potluck we were attending. They were a hit, and I begged Joanne to share her recipe with me. Thankfully, she did. It is a favourite dish in our home now.

Notes
Cooking time may vary depending on your oven and how big the chicken thighs are. Cooking time can vary from 45 to 60 minutes.

Ingredients
3 lbs chicken parts skinless
1 tbsp lemon juice
1 tsp grated lemon peel
3 garlic cloves minced
¼ cup sherry
½ cup brown sugar packed
2 tbsp Dijon mustard
2 tbsp of molasses
¼ cup soy sauce
1/8 tsp hot pepper sauce
4 tsp of cornstarch
Instructions
Lightly grease shallow metal roasting pan. Place chicken parts in single layer on bottom.
Combine remaining ingredients in small bowl except cornstarch. Mix well. Pour over chicken.
Bake uncovered for 45-60 minutes at 350°F.
If necessary, thicken the sauce with corn starch previously mixed with 1/8 cup of water.
Remove the chicken from the pan and thicken the sauce with the mixture of water and cornstarch on stove top.
Once it is thickened put the chicken back in the sauce and serve.