Jump to recipe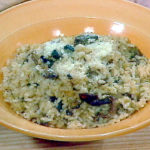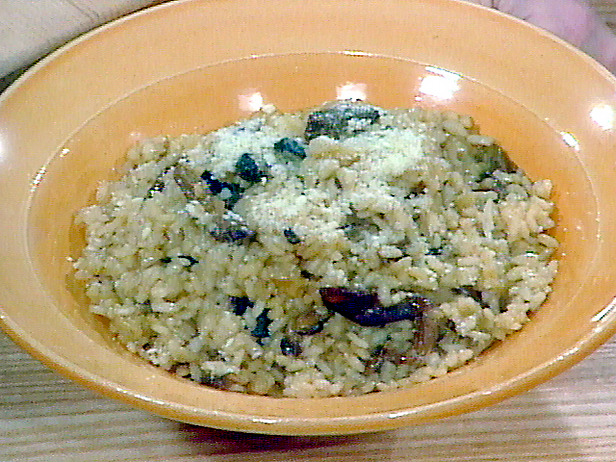 Risotto does require a bit more effort than just opening a can or using a mix, but the end result is great. Have a look at the recipe and see if it tempts your taste buds. We tried it, and really liked it.

Mushroom Risotto

Ingredients
8-9 cups (64-72 fl oz/2-2.1 l) Chicken Stock or prepared low-sodium broth
1/2 oz (15 g) dried porcini (caps)
1/4 cup (2 fl oz/60 ml) extra-virgin olive oil
4 cloves garlic, minced
1/2 lb (250 g) assorted fresh exotic mushrooms, thinly sliced
1/2 lb (250 g) fresh white cultivated mushrooms, thinly sliced
1/4 cup (1/3 oz/10 g) minced fresh flat-leaf (Italian) parsley
2 tsp minced fresh thyme
3 cups (21 oz/655 g) Arborio or Carnaroli rice
1 cup (8 fl oz/250 ml) dry white wine, at room temperature
2 tbsp unsalted butter
Salt and freshly ground pepper
Instructions
Mushroom Preparation
In a saucepan over medium-high heat, bring the stock to a simmer. Remove from the heat and add the dried porcine. Soak for 20 minutes. Drain the mushrooms through a sieve lined with a double layer of cheesecloth (muslin) or a coffee filter, gently pressing against the mushrooms to force out the stock and reserving the stock. Return the stock to the saucepan and bring to a simmer over medium heat. Maintain at a gentle simmer over low heat. Chop the porcine and set aside.
In a large, heavy saucepan over medium heat, heat the oil. Add the garlic and sauté until softened, about 2 minutes. Add all the fresh mushrooms and cook until softened, about 5 minutes. Add the chopped porcine, parsley, thyme, and 1/2 cup (4 fl oz/125 ml) of the simmering stock and cook until thickened, about 5 minutes.
Using a slotted spoon, transfer the mushrooms to a bowl and set aside.
Directions
Add the rice to the same pan and stir over medium heat until each grain is translucent with a white dot in the center, about 3 minutes. Add the wine and stir until it is completely absorbed.
Add the simmering stock a ladle full at a time, stirring frequently after each addition. Wait until the stock is almost completely absorbed (but the rice is never dry on top) before adding the next ladle full. Reserve 1/4 cup (2 fl oz/60 ml) stock to add at the end.
When the rice is almost tender to the bite but slightly firm in the center and looks creamy, after about 18 minutes, add the mushroom mixture and a ladle full of stock. Cook, stirring occasionally, until the mushrooms are heated through and the rice is al dente, 2-3 minutes longer.
Remove from the heat and stir in the butter and reserved 1/4 cup stock.
Season to taste with salt and pepper and serve at once.